Our Cakes, Tarts, Best of Philly Brownies, Cookies and other desserts are sure to satisfy any sweet tooth.
A Night Kitchen dessert is the ultimate bite of deliciousness that your family and friends will always remember.
We make our pies dough with 100 % butter, no trans-fats, for a crispier pie crust.
To expedite the process of ordering a custom cake you can send along photos of cakes using our new sharing option from
Specialty Cakes & Wedding Cakes pages, with the number of people you would like to serve & your telephone number to Info@NightKitchenBakery.com
* Starred items are made daily and available for walk in purchases.
* Writing on a cake only takes a minute and we always have a pastry chef on duty!
Curbside Service Now Operating!!!
7 Days A Week 8am-3pm
Place An Order For Some Well Needed Sweets!
Call 215 248 9235
* We will be allowing customers to call in orders over the phone and pay in full with a credit card.
* When you arrive at the Bakery, we will bring your orders out to your car, so that you don't have to come inside.
Support Our Small Business!
Buy Our Gift Card Now | Use When Crisis Is Over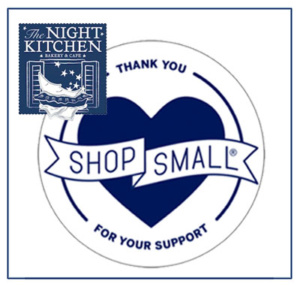 Cakes
Mocha Mousse Cake
Filled with Chocolate Mousse & Chocolate Icing
Yellow Cake
Lemon Curd Cake
Raspberry Chocolate Cake
Rasberry Jam Filling and Rasberry Buttercream Icing
Praline Cake
Chocolate cake layered with hazelnut buttercream

Carrot Cake
Traditional recipe with raisins and cream cheese frosting

Cheesecakes
* 5 days notice required
Peach Upside Down Cake
*Seasonal
*48 hours notice required
*Serves 10-12 people
Strawberry & Cream Cake
*Seasonal
*3 days notice required
German Chocolate Cake
*4 Days Notice Required
Breakfast Treats
In addition to our famous cinnamon buns and scones, we offer items such as Jewish apple cake and muffins.
*Breakfast treats usually sell out by midday but are discounted after 4pm.
* Breakfast orders require 48 hours notice.
Jewish Apple Cake
Sour Cream & Pecan Coffee Cake
Danish & Snails
Cinnamon Buns
Muffins
Scones
Individual Puddings
Bring back your jar with lid and get 50 cents back.
Tarts
7″ serves 6-8 people
10″ serves 8-10 people
Pies
9″ serves 6-8 people
Individual Desserts
Iced Brownies
Our double fudge brownies. As seen on the Rachael Ray Show!
Bars
Cupcakes
Individual Tarts
Cookies
We have a large assortment of cookies sold by the piece or pound including the following:
Sheetcakes
20 Servings start at $67
30 Servings start at $90
*Standard designs require 24 hours notice
6″ serves 6-8 people
8″ serves 10-12 people
10″ serves 14-16 people
* Larger cakes are also available