Our Cakes, Tarts, Best of Philly Brownies, Cookies and other desserts are sure to satisfy any sweet tooth.
A Night Kitchen dessert is the ultimate bite of deliciousness that your family and friends will always remember.
We make our pies dough with 100 % butter, no trans-fats, for a crispier pie crust.
Writing on a cake only takes a minute and we always have a pastry chef on duty!
6″ cakes serve 6 to 8
8″ cakes serve 10 to 12
10″ cakes serve 14 to 16
DF= Dairy Free
GF= Gluten Free
EF= Egg  Free
Cakes
Chocolate Mocha Cake
With chocolate mousse and chocolate icing.
Birthday Cake
Yellow Cakes with Vanilla Frosting and Sprinkles
Flourless Chocolate Cake – GF
Lemon Curd Cake
Yellow cake with lemon curd and cream cheese frosting.
Raspberry Chocolate Cake
Raspberry jam filling and raspberry buttercream icing.
Praline Cake
Chocolate cake layered with hazelnut buttercream

Carrot Cake
Traditional recipe with raisins and cream cheese frosting

Cheesecakes
* Requires 1 week's notice
Peach Upside Down Cake
*Summer Seasonal
* Requires 1 week's notice
*Serves 10-12 people
Strawberry & Cream Cake
*Summer Seasonal
* Requires 1 week's notice
German Chocolate Cake
* Requires 1 week's notice
Sheetcakes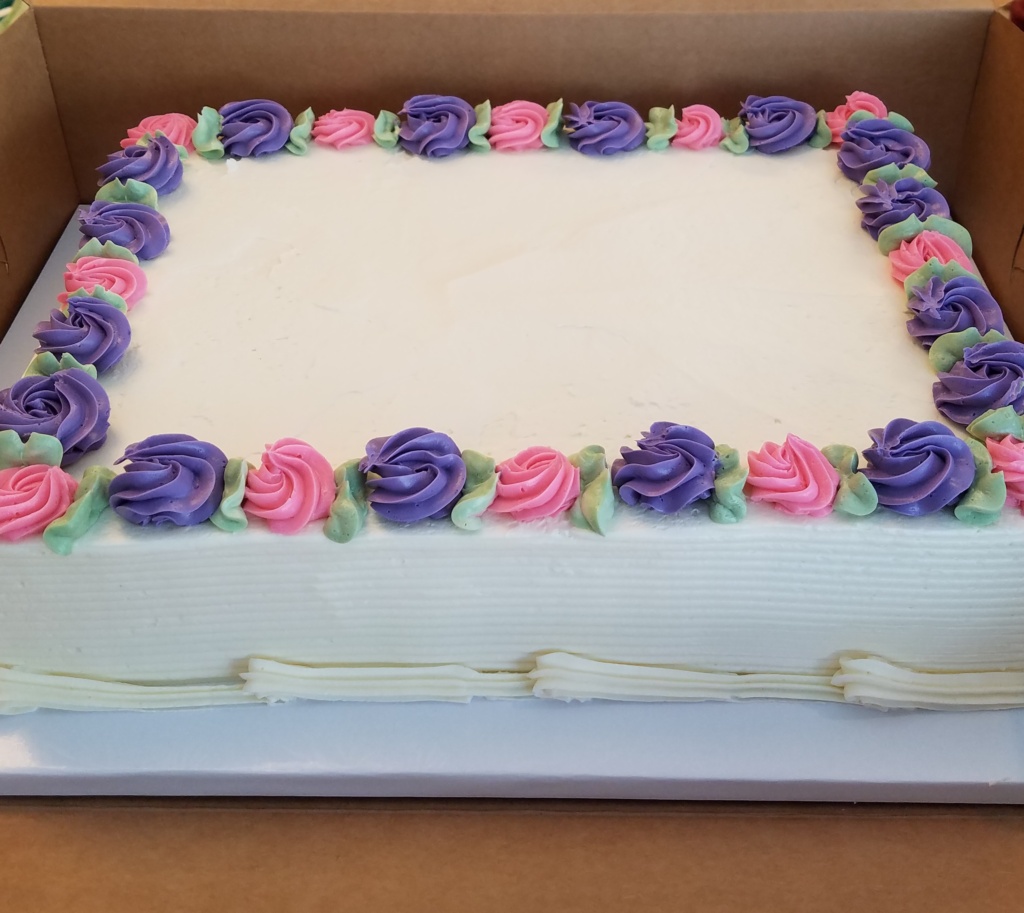 Small sheet serves 20 /$80 & Large sheet serves 30 /$100
Cupcakes
Tarts
7″ serves 6-8 people
10″ serves 8-10 people
Pies
9″ serves 6-8 people
Individual Desserts
Brownies
Our double fudge brownies. As seen on the Rachael Ray Show!
Bars
Individual Tarts
Cookies
We have a large assortment of cookies sold by the piece or pound including the following:
Breakfast Treats
In addition to our famous cinnamon buns and scones, we offer items such as Jewish apple cake and muffins.
*Breakfast treats usually sell out by midday but are discounted after 4pm.
Jewish Apple Cake
Sour Cream & Pecan Coffee Cake
Danish & Snails
Cinnamon Buns
Muffins
Scones